Baby, it's cold outside! At this time of year, nothing beats warming yourself up with a steaming cup of classic hot cocoa – that is, unless you were to try of one of these oh so AH-MAZING creative and tasty hocho recipes that could give even the most steadfast chocoholic cause for pause.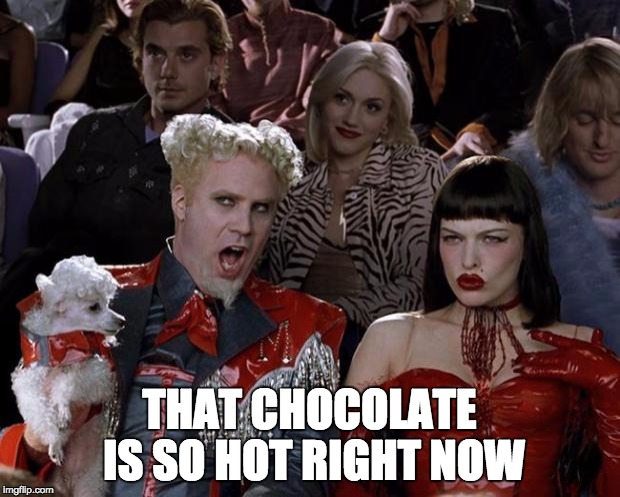 Decadent Dark Hot Chocolate with Whipped Mascarpone Cream
If you like your chocolate thick and dark, this is the recipe for you! It's easy to make, so you can enjoy it soon after coming in from the bitter winds and slushy Toronto streets.
3 ounces semisweet dark chocolate
2 tablespoons sugar
½ teaspoon cinnamon
¼ teaspoon whole nutmeg zest
½ teaspoon vanilla
3 drops almond extract
4 cups milk
1 cup heavy whipping cream
1 teaspoon mascarpone cheese
In a food processor combine 3 ounces of broken semisweet chocolate, 1 tablespoon of sugar, ¼ teaspoon of nutmeg zest and ½ teaspoon of cinnamon – ground until it reaches a fine texture. In a saucepan combine chocolate mixture and 4 cups of milk. Cook and stir over low heat for 15-20 minutes or until chocolate melts. Remove pot from heat- stir in ½ teaspoon vanilla and 3 drops of almond extract. Add Mascarpone whipped cream, sprinkled with cinnamon-serve warm.
Mascarpone cheese whipped cream: Place metal bowl with the whisk in the freezer for 15 minutes. Place 1 tablespoon of sugar, 1 teaspoon of mascarpone cheese and 1 cup of whipping cream in the bowl. Whisk until mixture has a stiff like texture.
Candy Manor Peppermint Hot Chocolate
People stand in line for this delicious treat during the Christmas season in Cape Cod – but lucky you, we've got the secret recipe right here!
Whipped Cream:
1 cup (8 ounces) heavy cream, chilled
2 tablespoons powdered sugar
1/4 teaspoon peppermint extract (recommended: boyajian)
2 tablespoons crushed peppermint candy
Hot chocolate:
3 ounces unsweetened chocolate, grated
1 quart (32 ounces) whole milk
1/3 cup (3 ounces) sugar
1/3 cup (3 ounces) boiling water
1 teaspoon vanilla extract
1 teaspoon peppermint extract (recommended: boyajian)
Candy canes, garnish
For the Whipped Cream: Place the cream, powdered sugar and peppermint extract in a chilled mixing bowl, and beat on high speed until soft peaks form. Use a rubber spatula to fold in the crushed candy. Refrigerate the whipped cream.
For the Hot Chocolate: Place the chocolate in a 2 1/2-quart metal mixing bowl. Place the bowl over (but not touching) a pan of simmering water. (The bowl will seem large, but you need the space to mix in the milk.) Stir the chocolate occasionally with a rubber spatula.
In the meantime, pour the milk into a heavy-bottomed 2-quart saucepan. Whisk in the sugar and cook over medium heat, stirring occasionally, until the milk begins to simmer and bubbles form around the edge. Turn off the heat.
When the chocolate has melted, reduce the heat so the water under the pan barely simmers. Pour the 1/3 cup of boiling water into the melted chocolate, and whisk or beat with an electric mixer until smooth. Dribble in the hot milk mixture as you whisk. When the ingredients are well incorporated, remove the bowl from the water bath, and stir in the vanilla and peppermint.
To serve, ladle the hot chocolate into mugs, and top with a generous dollop of the whipped cream. Garnish with a candy cane.
Pumpkin Spice White Hot Chocolate
This rich and creamy homemade white hot chocolate with a touch of warm pumpkin pie spice is perfect for getting cozy on a chilly winter night.
1 cup heavy cream
2 cups milk – I used skim milk
1 cup good quality white chocolate chips, Ghirardelli recommended
1/2 teaspoon pure vanilla extract
1/2 teaspoon pumpkin spice
Whipped cream and additional pumpkin spice to sprinkle on top.
Heat cream and milk in a pan over medium heat, stirring occasionally until hot but not boiling. In a medium sized bowl, pour heated cream and milk over white chocolate chips. Stir until chips are melted. Add vanilla extract and pumpkin spice. Top with whipped cream and a sprinkle of pumpkin spice.
Red Velvet Hot Chocolate with Cream Cheese Whipped Cream
The thing that makes this hot chocolate "red velvet" is merely coloring but the thought is cheerful in itself! You'd be surprised by how a little bit of color can make a cup of hot cocoa seem all the merrier. The addition of cream cheese frosting though… purely decadent and the perfect pairing.
4 cup whole milk
3/4 cups semi-sweet chocolate chips
1/4 cup sugar
1 teaspoon red food coloring
1 cup heavy whipping cream
2 – 4 tablespoons whipped cream cheese, room temperature
In a stand mixer, combine the heavy cream and sugar. Whip on medium speed with the whisk attachment for 2 – 3 minutes. Just before peaks form, add the cream cheese and whisk for another 2 minutes. Taste and add more cream cheese to taste. Be careful not to over whip though, or else you'll have butter! In a medium saucepan, heat the milk over medium heat. Add a splash of water and the chocolate chips, constantly stirring gently. When almost melted, add the red food coloring and stir. When the chocolate chips are thoroughly melted, pour the hot chocolate into mugs and top with the whipped cream.
Salted Peanut Butter Hot Chocolate
Imagine a dark chocolate peanut butter cup all melted and warm in a mug.  Now add a sprinkle of sea salt and a couple of toasted marshmallows to finish it off.  Nothing more to say.  Mmm.
1/4 cup sugar
1/4 cup cocoa
1/4 cup water
3 cups milk
3-4 tablespoons creamy peanut butter
1/2 cup bittersweet or semisweet chocolate chips or 3 oz. finely chopped chocolate
In a saucepan, add the sugar and cocoa and whisk in the water until smooth, then whisk in the milk over medium-high heat. Heat until steaming. Remove the pan from the heat and add the peanut butter and chocolate chips. Let sit for a few seconds, then blend with a hand-held immersion blender or whisk until frothy. Finish with a touch of sea salt and some toasted marshmallows.
Enjoy the cocoa coma!